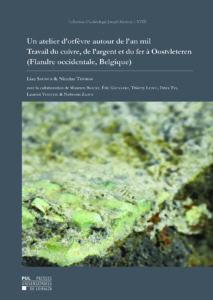 Title: Un atelier d'orfèvre autour de l'an mil. Travail du cuivre, de l'argent et du fer à Oostvleteren (Flandre occidentale, Belgique)
Authors: Lise Saussus et Nicolas Thomas (ed.), with Maarten Bracke, Éric Goemaere, Thierry Leduc, Dries Tys, Laurent Verslype and Nolwenn Zaour
Place and date of publication: Louvain-la-Neuve, Presses universitaires de Louvain, 2019.
Collection : Collection d'archéologie Joseph Mertens, XVIII
Size and format: 21 x 29,5 cm – soft flexible cover, colour
Pages: 262 pages 155 ill.
ISBN: 978-2-87558-879-1
Price: special price (for individuals) 35 € TVAC excluding shipping cost (printed book). Price of the publisher 43,50 € (printed book) et 29 € (eBook).
To profit from the special price (35 € for private individuals): contact the address craneditions@uclouvain.be
In 2014, archaeological excavations in advance of development were carried out by Monument Vandekerckhove nv at the edge of the village of Oostvleteren (West Flanders). They revealed the remains of a medieval metallurgical workshop dating from the late 10th to early 11th centuries. Established on the outskirts of the pagus of the Yser, the estate of Fletrinio in pago Isseretio is typical of the Flemish maritime plain during this period. The working of copper-based alloys, silver and also iron highlights the economic role and the social importance of the site whose centre, with its church, had an early castle next to it. The finds from a single pit provide evidence of the activity of the workshop, and they were studied using both qualitative and quantitative methods. They shed light on the different aspects of production and its intensity. The techniques of casting and of silver refining by cupellation, the quality and provenance of the clay and the alloys used, the evidence of brass cementation, as well as the range of objects produced are filling a gap in our knowledge for the period and the area. Taking into account the related environmental issues and historical framework, the multiple skills of the craftsman are considered, as are his origins and whether he was settled or itinerant. It appears that in an environment favourable to maritime and commercial exchanges, the Oostvleteren workshop produced small series of decorative objects, most probably harness fittings and riding equipment for a privileged clientele.